Fasting with the Philippines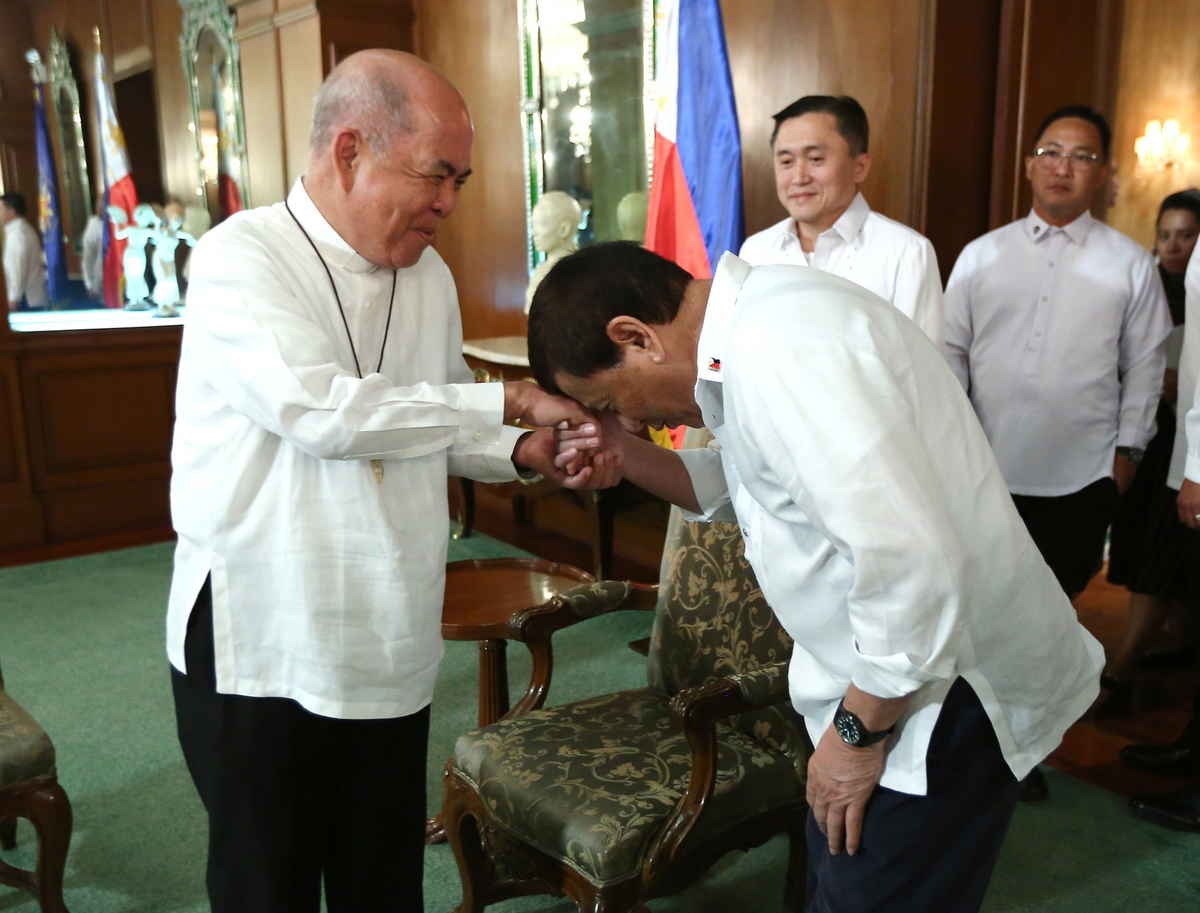 On Easter Sunday in the year 1521, Spanish missionaries offered the first Mass to ever be celebrated in the Philippines. Fast forward nearly 500 years, and the Philippines is the third most Catholic country in the entire world (behind only Mexico and Brazil). In 2015, it was estimated that 82.9% of Filipinos profess the Catholic faith. Compare that with the United States where, despite ranking fourth on the list right behind the Philippines, only 22% of the population professes to be Catholic.
The deep faith of the Filipino people, their love of the Blessed Virgin Mary, their devotion to the message of Divine Mercy - it's all inspiring to say the least. When Pope Francis visited the nation in 2015, an estimated six to seven million turned out for the Mass, making it the most attended event ever recorded in papal history.
All this to help underscore how truly bizarre it has been to watch the increasingly anti-Catholic (and anti-God) messages coming from the president of this beloved Catholic nation, Rodrigo Duterte.
Duterte has recently used an expletive to describe God, called God "stupid," and noted that while he considers himself a spiritual person, he "can't accept" Catholi cism or any form of organized religion. He went on to offer a challenge:
"You do that today, one single witness, a guy, a human being who was able to talk, to see God. Of the so many billions who had been on here [on Earth], I just need one. And if there is one, ladies and gentlemen, I will announce my resignation immediately."
Duterte's outspoken negativity toward the Church most likely finds its origin in a myriad of sources. Sadly, he has spoken of suffering sexual abuse at the hands of a priest when he was a minor and stated he felt too young to complain about the abuse at the time it happened, and was intimidated by Church authorities. More recently, it has been the Church's opposition of Duterte's drug policy and approval of extrajudicial killings of drug users and dealers that has caused tension between the bishops and the president.
According to a story from Reuters:
"More than 7,600 people have been killed since Duterte launched his ant i-drugs campaign seven months ago, more than 2,500 in what police say were shootouts during raids and sting operations."
The Bishops conference has taken a strong stance against the new policy:
"An even greater cause of concern is the indifference of many to this kind of wrong. It is considered as normal, and, even worse, something that (according to them) needs to be done. An additional cause of concern is the reign of terror in many places of the poor. Many are killed not because of drugs. Those who kill them are not brought to account."
The letter from the bishops, which was read at Mass around the nation asked "elected politicians to serve the common good of the people and not their own interests" and urged to stop "rogue policemen and corrupt judges."
As Duterte has persisted in mocking the Church, her teachings, and even God himself, Archbishop Romulo Valles has stepped up and called for a day of prayer and fasting in reparation for Duter te's slander, in order to invoke "God's mercy and justice on those who have blasphemed God's holy name, those who slander and bear false witness and those who commit murder or justify murder as a means for fighting criminality."
In addition to this day of prayer, the Archbishop has asked Catholics in the Philippines to join in three additional days of fasting, prayer and almsgiving starting on July 17.
As one body of Christ united throughout the world, I'm hoping we can all step up to the plate and join our sisters and brothers in the Philippines with our own prayer, fasting, and almsgiving, and join together as a witness to the love of that very same God that President Duterte has mocked and asked for proof of. Inspired by the high priestly prayer of Jesus that those who will believe in him may be one, I see this moment as an opportunity to show solidarity as a means of witnessing to our unity in love of God and love of neighbor.
Perhaps if Duter te sees the Body of Christ united here on Earth, he'll come to understand the reality of the one true God who unites us from Heaven.
Tommy Tighe is a Catholic husband and father of four boys. You can find out more about him at CatholicHipster.com.
Read the latest local and global Catholic News.
Sign up for our newsletter.
Source:
Google News Philippines
|
Netizen 24 Philippines